Background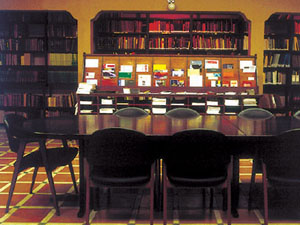 Towards the end of the 19th century, Jesuits (members of the religious order, the Society of Jesus) started work on the creation of three scientific institutes in Roquetes (a small town in the Baix Ebre region of Catalonia), near the already-existing Faculties of Philosophy and Theology located in Jesus, a district of Tortosa. Devoted to the study of the three natural sciences, these institutes were originally known as the Chemical Laboratory of the Ebro and the Biological Laboratory, while the institute of physics was called the Ebro Observatory. The Chemical Laboratory moved to Barcelona in 1916, becoming the Sarrià Chemical Institute. The Biological Laboratory also moved and eventually merged with the Chemical Institute. Meanwhile, Father Ricard Cirera became the founder and first Director of the Ebro Observatory, carrying out this internationally recognised project alongside his fellow
Jesuits
.
History
The Ebro Observatory Library was set up when the Observatory itself was founded in 1904, as it was believed that this service would be absolutely essential for the research carried out in this scientific institute. Father Cirera contacted and visited numerous international observatories and scientific bodies, many of which sent copies of their publications to the Library, dating from the very first issue onwards. These early contacts laid down the foundations for the productive exchange of publications with different international institutions still operative today.
The Ebro Observatory Bulletin was first published in 1910. It was at this point that the exchange of publications would become more regular and frequent. A hundred years later, this constant influx of documents and publications has played an essential part in the formation of the collection of the Ebro Observatory Library.
Collection
The Library's archives are made up of around 50,000 publications including: monographs, periodicals, serial publications, technical reports, congress records, doctorate theses, observation data bulletins, and maps.
The Ebro Observatory Library specialises in Sciences of the Earth and Space. These sciences cover many areas, but the library's records and documents relating to the subject of Geophysics and, specifically, the studies of the relationship between solar and earth activity are particularly noteworthy. The Observatory has been carrying out research into this relationship ever since it was founded over a century ago.
Amassed over a hundred years, the Library's collection is an essential tool for studying the history of sciences. Especially notable areas of the collection include: over 2,100 periodicals and serial publications from the 19th and 20th centuries with bulletins of data from different observatories and the archives bequeathed by the natural scientist, astronomer and geologist,
José Joaquín Landerer Climent
(1841-1922) as well as technical books from
Narcís Monturiol library
.